Personal loans Online
While a lot of people encounter a need for personal loans at some point, they aren't always easy to get. Banks are less willing to lend them, for the reason that there isn't much in the way of collateral. Think about it – if a mortgage loan or car loan is defaulted on, the property can be repossessed and sold to cover the bank's loss.
Personal loans, on the other hand, are only secured by the promise to repay. As a result, borrowers have to turn to other sources to fill the demand. When you need a personal loan you can turn to friends and family at times, which doesn't always work out very well, or other types of lenders – such as online payday loans or personal loan lenders.
Need A Personal Loan online?
Applying for personal loans online is easy through Personal Money Network. Since we work with many lenders, we can help connect you direct with a number of options for personal installment loans or bad credit loans for when you can use fast cash to take care of unexpected expenses.
Online Personal Loans for Bad Credit
In order to get approval for online personal loans for bad credit you only need to provide a few details about employment, banking and such when you apply for small personal loans online.
While personal loans for bad credit does not mean no credit check or guaranteed approval, it does mean that your application will be considered by lenders for personal loans where bad credit is less of a concern and many borrowers are often approved. This type of unsecured loan is a popular option for those with poor credit when in need of funds quickly.
Since there are many seeking bad credit personal loans guaranteed approval direct lenders it should be mentioned that there is no such thing as guaranteed approval with personal loans, bad credit or not. All lenders conduct some kind of credit check, even a simple one, and none would ever provide guaranteed approval. It simply doesn't make sense for direct lenders to do so if they want to stay in business. For those looking for payday loans we also provide options when in need of fast cash.
Personal Money Network is not a direct lender, but works with many, and enables applicants through our website to connect with direct lenders that often provide bad credit personal loans.
Tailored To Your Needs
Personal Money Network works with direct lenders who will review your application after applying to see if you qualify for an online personal loan that fits your individual needs. There are short term loans available for $100 to $1000, or if need be, larger loans with installment payment plans are also available. Borrowers may also be able to qualify for larger loans should they be necessary for qualifying borrowers, with lower interest rates on larger loans.
Personal Money Network is not a direct lender, and the lenders we work with will provide additional information when they receive your application should you be approved for funding.  By applying through Personal Money Network, we redirect your application to the direct lenders we work with. This may improve your chances or receiving a near instant decision opposed to applying with a single direct lender.
The Costs
Any loan such as personal loans, payday loans or other short term loans, carry costs of some kind. A number of factors can affect costs, along with any fees from the lender providing the loan.
APR:
Some short term loans available through the network of lenders Personal Money Network works, can carry high interest rates when expressed as annualized percentage rates or APR.
Fees are assessed as a rate per $100 dollars lent, often between $15 to $40 per $100 in loan principal; expressed as APR, and up to each lender what price they set. However, loans for larger amounts carry lower fee rates, lowering the effective APR.
By comparison, a $46 reconnect fee from a utility company on a $100 bill amounts to 1,203% APR; a $32 returned check fee on a $100 bounced check amounts to 2,336%.
Credit Impact:
Loan lenders may or may not rely on credit scores obtained from the three main credit rating and reporting bureaus – Equifax, Transunion and Experian. A borrower's chance of obtaining a loan from any lenders working with Personal Money Network may be affected by such scores. However, the decision to obtain such scores are solely the purview and privilege of the loan lender in question, as are said loan lender's submission to such agencies the borrower's request for the loan, payments, and prior history with that or other lenders.
Collection Practices:
Should a borrower default on a loan or loan payment, internal collection efforts by the lender (not Personal Money Network) will likely be made, typically by reaching out by phone, in order to establish a repayment plan that takes the borrower's ability to repay into account. However, should these efforts fail, a third party might be brought in to collect the loan balance as the funds were lent in good faith.
Loans Available
A number of loan products could be available from the lenders that work with Personal Money Network. Payday loans, short term loans or cash advances are just a few of popular loan products available.  The direct lenders that work with Personal Money Network can also offer online loans, hardship loans and or unsecured loans.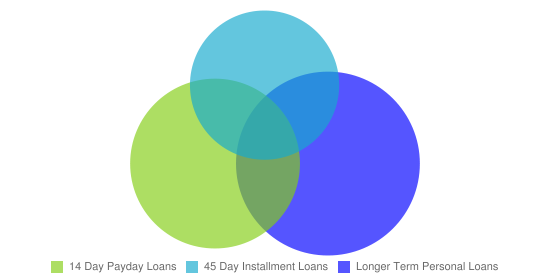 * Number of days for repayment is determined by local law. See our Terms of Use & Disclaimer.
Installment loans, payday loans and cash advances are short term loans that are meant to be repaid in a short amount of time. Loan terms for this class of loans, as well as small personal loans, is typically two weeks. Fees are often between $15 to $40 per $100 lent, and at the discretion of the lender for fee amount. Lenders are capable of transferring the funds straight to a borrower's bank account via direct deposit, so there's no need to wait for a check to come in the post.
However, should larger amounts and longer repayment terms be needed, those could be  available as well. Personal loans and installment loans with multiple payment plans over longer terms might be available depending on the lender.  A larger loan amount may result in a credit check, though bad credit scores may not necessarily disqualify prospective borrowers. Borrowers should, however, only borrow what they can responsibly afford to repay.
Unsecured loans and personal loans in amounts larger than $2,500 are also available. Unsecured loans up to $25,000 can be borrowed through Personal Money Network's access to peer-to-peer lending and lenders we work with. Peer-to-peer lending has become more popular in recent years, as one borrows from individuals willing to lend to others. Credit ratings, however, become more intrinsically involved, as borrowers will likely want to scrutinize a potential borrower. However, the rates available may be much lower than APR for cash advances from some credit cards, and unlike credit card companies, you can pay off the loan instead of having to accrue interest on the advance while paying off the rest of your balance.
Safe and Secure
Personal Money Network fastidiously adheres to industry standard levels of security, by employing stringent encryption as well as taking great care in the sharing of information. The security of your information is a top priority, and we only work with lenders who share the same values. Since there are no upfront fees, you can walk away at any point in the loan process without any obligation until you agree to the loan.
If a personal loan online through Personal Money Network sounds like the loan for you, then why not get started right now? Apply Today!
Start your application today!