Installment Loans
Installment loans are fairly simple and in fact they are the most common type of loan in the world. Just like most other loan products you'll ever deal with, you pay the loan back using a series of payments over a period of time, or in other words, installment payments. Simple enough, right?
Getting Installment Loans Online
Just because you have a sudden expenses or other shortfall doesn't mean installment options aren't available. Keep in mind that they are not payday loans, but a type of loan that allows you to repay over time with a fixed number of payments. In fact, they are very popular. It's a fantastic way to get the funding you need with a payment plan that works for you, even with bad credit. While there are some that are seeking guaranteed installment loans for bad credit it is important to know that guaranteed approval of any loans, is not actually something that can be offered by a lender as they need to review your application before making a decision.
Installment Loans for Bad Credit
Even with bad credit you have options, and installment loans for bad credit could be an alternative for fast cash loans with near instant decision. Applying for personal loans online is both easy and convenient, even with poor credit.
Installment Loan Compared To Other Loan Types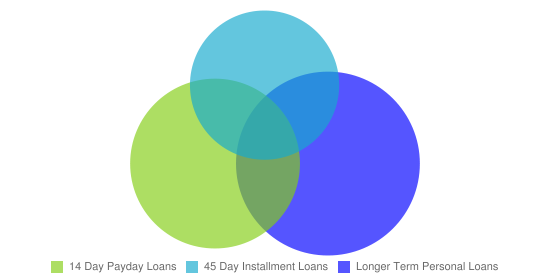 * Number of days for repayment is determined by local law. See our Terms of Use & Disclaimer.
Getting an online installment loan through PersonalMoneyNetwork is not like getting a loan from a traditional direct lender. Instead of going to an individual lender and awaiting a decision, Personal Money Network connects you to a network of lenders who want your business.
For those that need fast cash for payday loans Canada we are also able to help as we work with many lenders.
FAQs
What is an installment loan?
An installment loan is a short term personal loan that you can pay back over a longer period of time. They can often be paid early without a pre-payment penalty.
How much does an installment loan cost?
The cost to borrow is different per loan, and can depend on things like the amount of the installment loan, length of loan term and other factors.
Do installment loans check credit?
It will depend on the direct lender. Personal Money Network works with a large network of lenders and some may check credit with credit bureaus. But not all, so even with bad credit you will still get a decision on your application.
How do I apply for an installment loan?
Simply complete our online application to get started. With our easy application and near instant decision process, you'll know if you're eligible for a loan.
APR:
Installment loans may not be best expressed as APR, or annual percentage rate, because installment loans through Personal Money Network and the direct lenders we work with typically have loan terms of a few weeks to months at most. However, when expressed as annualized interest, short term and other short term loan products can carry what appears to be a higher APR. Generally, the longer the term and higher the principal, the lower the effective APR. However, bear in mind that a $32 bounced check fee for a $100 check amounts to 2,336% APR. A $46 reconnect fee for a $100 utility bill is 1,203% APR, when annualized.
Fees:
Installment loans usually carry a flat fee per $100 lent, with loans larger than 500 dollar sometimes having lower fees, but can vary depending on the company providing the lending. Personal Money Network is not a lender, but works with lenders to help you find short term solutions like or payday loans and similar.
Credit Impact:
While a credit rating may play a role in whether you are approved for an installment loan, Personal Money Network works with lenders that may rely on scores from the three (3) main credit rating agencies, namely Transunion, Experian and Equifax. Viewing such scores are entirely the decision of the lender, though the borrower's approval may not rest on such scores. However, the lender may submit such things as the request(s) for the loan or payment(s) on the loan to these agencies, as is their prerogative. Such lenders may also rely upon their own criteria for approval decisions, such as income, employment and ability to repay, or borrowing history with the specific lender in question or with other installment loan lenders. While some look for installment loans no credit check or no credit check loans all lenders do some form of check.
Collection:
Should a loan become delinquent, an internal effort by the lender (not Personal Money Network) may be made to collect the loan first. Generally this will be done over the phone, to find a payment arrangement that reflect's the borrower's circumstances and ability to repay the loan. However, should these attempts fail, a third party may be enlisted to collect the debt for the loan that was lent in good faith. Should you foresee difficulty in repaying your loan it is advised to get in touch with the lender before you default or it becomes delinquent.
Smart Borrowing
Installment loans, payday advances, payday loans and short term loans aren't meant to be lifesavers or a quick solution for deeper financial problems. They are meant to be a temporary solution to a temporary problems. If you're having long-term financial difficulties, they should be addressed with sound financial planning and advice from a debt counselor. Only borrow what you can afford to repay, which reduces risk for borrower and lender alike.
After applying, you may receive an instant decision, and should your application be approved, you will be redirected to a new page where you can review your loan agreement with the direct lender. Since the lenders we work with mostly use direct deposit, the funds can be transferred directly to your checking or savings account. So, if an online loan sounds right for you, you can get started on the application right away!
If you have bad credit, online loans can be a first step towards to improving it, or to help with consolidating debt and getting your finances in order.
Finding your own installment loans near me is now easier than ever. With the convenience of applying online, location is no longer an issue to get fast cash loans when you need it.
California residents have additional or different rights to obtaining the personal information a company has on them and to opt out of their personal information being shared. For more information or to opt-out please review our California Privacy Rights.