Frequently Asked Questions
There are several questions people often have with payday lending, online installment loans, and other short term financing options. If your answer isn't found here, feel free to contact us at any time.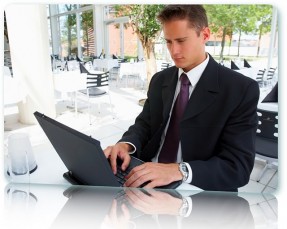 How does the online lending process work?
First, you have to fill out the online application. It's short, so it won't take much of your time. Then you click "submit."
Once you have submitted your application, the process doesn't take very long; an approval decision typically takes about three minutes. If you're approved for a payday loan, you'll be redirected to the approving lender's website.
At that point, you'll have the chance to review the loan terms such as interest rates/fees, repayment terms and so forth. It's up to you whether you want to accept or decline the offer. Please make the most educated decision possible.
Is my information safe?
The safety and security of your information is a top priority. In pursuit of keeping your information safe, we employ 128-bit SSL encryption, which is the industry standard for financial information such as bank account numbers, routing numbers, Social Security numbers and other information.
Is the application kept private?
Only Personal Money Network and the lenders in our partner network will see your loan application.
How many lenders will see my application?
It depends. Some people will be accepted by the first lender to see their information, so only one in some cases. In other cases, multiple lenders will view the application before a lending decision is made. This usually depends on lenders' willingness to lend to you. Should you have certain factors which may disqualify you from some lenders, such as income level or other factors, multiple lenders may have to view your application. This is to do our best to find a lender for your needs.
What qualifications are involved
Typically, our lenders prefer prospective borrowers with a monthly income of $1,000 or more. The source of income should be as steady as possible, such as regular employment or other steady source of income.
Borrowers must be a United States citizen and at least 18 years old. Borrowers must also have a bank account where funds can be deposited and withdrawn.
What if I'm in the military?
While Personal Money Network can work with military borrowers, regulations governing lending to military personnel are stricter than those applying to civilians. As a result, fewer lenders can offer loans to military personnel, which unfortunately does lower the chances of approval given the smaller pool of lenders able to extend loans to military personnel.
How quick is the application process?
Very quick. The application takes most people less than five minutes. Most approval decisions are rendered three minutes or so after submission.
When do I get the funds?
The time it takes for you to receive the funds after accepting a lender's offer are ultimately up to the lender, but many will have the funds wired to your bank account the next business day.
Do I have to use direct deposit?
The preference for most of our lenders is to wire funds to an active checking or savings account, so direct deposit is definitely preferred. However, it might not be necessary in all cases.
Is there a cost to apply
Personal Money Network never charges any fees for submitting an application.
Is my cell phone number ok to use?
It is fine to use your cell phone, but a land line is better to use when conducting business such as loan applications.
Is my personal email address acceptable?
While a personal "friends and family" type email address is acceptable to use, or any other type, it's a good idea to have an email address solely for business purposes. If you have one, that would be preferable.
I might be late paying back my loan?
If you are having issues making a payment to the lender you borrowed the loan from, contact the lender directly as soon as possible. The lender you borrowed the loan from will be able to work with you. Depending on which state you reside in, the lender may be mandated to offer an extended payment plan to you should you be unable to meet the present obligations.
Where can I learn more about managing my money?
You can take a look at our Resources page with articles full of helpful suggestions.
What are the terms of use for using Personal Money Network?
If you would like to examine the full terms of use of Personal Money Network, and it is encouraged that you do, please click here to view them at your leisure.