Each year millions of Americans use payday loans. You may have heard  how some have landed in debt spirals and needed to take another loan to pay the first or similar. We've all heard such stories, but decided to dig a little deeper into payday loans and whether they're truly as horrible as some make them sound.
There are more payday loan storefronts than McDonald's and Starbucks, and that says a lot. There is clearly a demand, and the lenders are all too eager to "help" when you need money now, but is this kind of help worth the price?
Are Payday Loans Legal?
Payday loans are legal within 27 states, along with 9 other states having allowed but with strict restrictions. Among the 14 states remaining payday loans are strictly prohibited by law.
In terms of Federal regulation, it is the Consumer Financial Protection Bureau (CFPB) that regulates all payday lenders.
The laws in some states also limit the number of loans a borrower may take at a single time, requiring lenders to check a customer's eligibility in real time databases before allowing them to take out a payday loan. Some states also limit the number of loans a borrower can take per year.
The CFPB also operates a website that can answer questions related to payday loans.
What is a Payday Loan?
This is a small dollar amount loan, usually $100 to $1,000 that is to be repaid by your next payday. The funds are typically available the same day or next business day, and an option even for those with bad credit.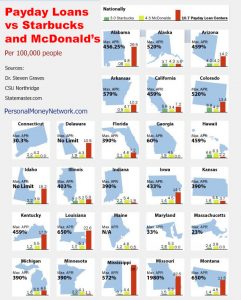 Are Payday Loans A Good Idea?
Depending on who you ask, the answer is No. But can also be Yes.
For some, the need for fast cash can outweigh the costs. If you have bad credit and don't have the options of a credit line or credit card advance, a bank often won't bother for a few hundred dollars. Also, it can take a week for a personal loan request from a bank, and if you need the money quickly for a car repair, medical bill or something else, the wait can be too much at times.
Almost 25% of U.S. households are unbanked or underbanked. Those are the people that either don't have a bank account, or have an account, but still choose to use financial services outside the banking system like payday loans to make ends meet.
But on the other hand, the annual interest rate (APR) can be alarming. The national average annual percentage rate of payday loans is almost 400 percent. However, since these are meant to be paid back by your next payday, the annual rate can be a moot point too.
The finance charges for payday loans often ranges from $15 to $30 to borrow $100. In some cases, depending on the purpose of a payday loan, this can be a good option. If you knew that your bank account was going to have a charge and you wanted to avoid an NSF, taking a payday loan to cover the amount for a few days might make more sense than dealing with any non-sufficient funds fees. Which could also affect your credit rating.
The Payday Loans Debt Spiral
Not everyone is great with money, and some lenders try to take advantage of this. There are times when some lenders will push a customer into taking another payday loan, just to repay the first one. This is called a rollover, and for some it can become a debt spiral taking months to break free of it.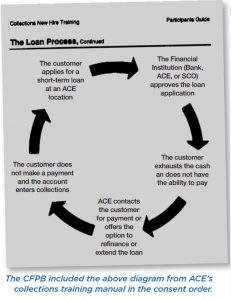 In one study, it was found that payday loans are structured to create a long-term debt trap that often drains consumers' bank accounts and causes significant financial harm, including delinquency and default, further NSF and overdraft fees, along with difficulty paying for such things like rent/mortgage and other bills. It can even lead to bankruptcy for some. The less scrupulous lenders repeatedly flip borrowers from one unaffordable loan to another.
But there is a silver lining. At least for those with bad credit that can typically manage their personal finances and have few options available for where they can turn when in need of quick cash, even if it's at a premium.
Sadly, there are a lot of people that don't manage their finances well, and when they get behind a little bit on bills and decide to take a payday loan, it can be just the beginning of their troubles. If someone had a take home pay of just under two thousand dollars, with most of it going to pay bills, rent and other essentials, if they take a payday loan of a thousand dollars it isn't likely they can afford to repay. This, more often than not, becomes the beginning of a debt cycle.
There are other times where a lender recognizes that someone borrowing over 25% of their typical income could be a problem for repayment, and limits the amount borrowed, but the applicant just goes to multiple lenders to get the total amount their after, even when it's clear that they won't be able to make their payments.
Within the United States, almost 10% of the population have what is considered bad credit, or no credit rating at all. This means the bank won't touch them, and small dollar unsecured loans are not usually something the banks provide.
Most don't have any kind of emergency fund to make use of when fall on hard times with their finances. Almost half of American households have any kind of substantial emergency savings of funds for unexpected expenses should it become a need. Combine that with bad credit and your options become very limited when you need fast cash.
In conclusion, so long as you understand the rates and terms, there is an argument to be made for payday loans, it's pros and cons, and how every situation is different. In many cases, they can make sense. At the same time, there are many cases where it might not be the best option to choose from.