Just like you've always been told to eat your vegetables, you might have also been told somewhere along the line that you should go to college. There are lots of different reasons to take classes or pursue a degree, no matter how much school you've already had. Here are five of the best we know of.
1. You Will See ROI if You Invest in Yourself
We all know it's important to invest in your future by getting an education. Still, it's hard for lots of people to conceptualize how that all works out for them, specifically. And then there's the self-doubt we all suffer from time to time about whether we're up to these kinds of challenges.
We're all guilty of self-sabotage but this is where it's important to remain focused on your long-term goals. Stick to it and you'll see a return on your investment (ROI).
To help you out, here are four more reasons you should consider furthering your education — whether that means taking some college courses, getting your associate's degree, or finally diving into that Master's program you've been on the fence about.
2. Earning a College Degree Will Make a Positive Impact on Your Income
There are lots of people in the world who can tell you that going to college is good for your career. Whether that translates into having more money is to you and the kind of jobs you take.
But in general, the scales tip heavily toward the people who have college degrees when it comes to who gets to earn the big bucks.
If you're a visual thinker, this bar graph might help you understand what an education can do for your paycheck: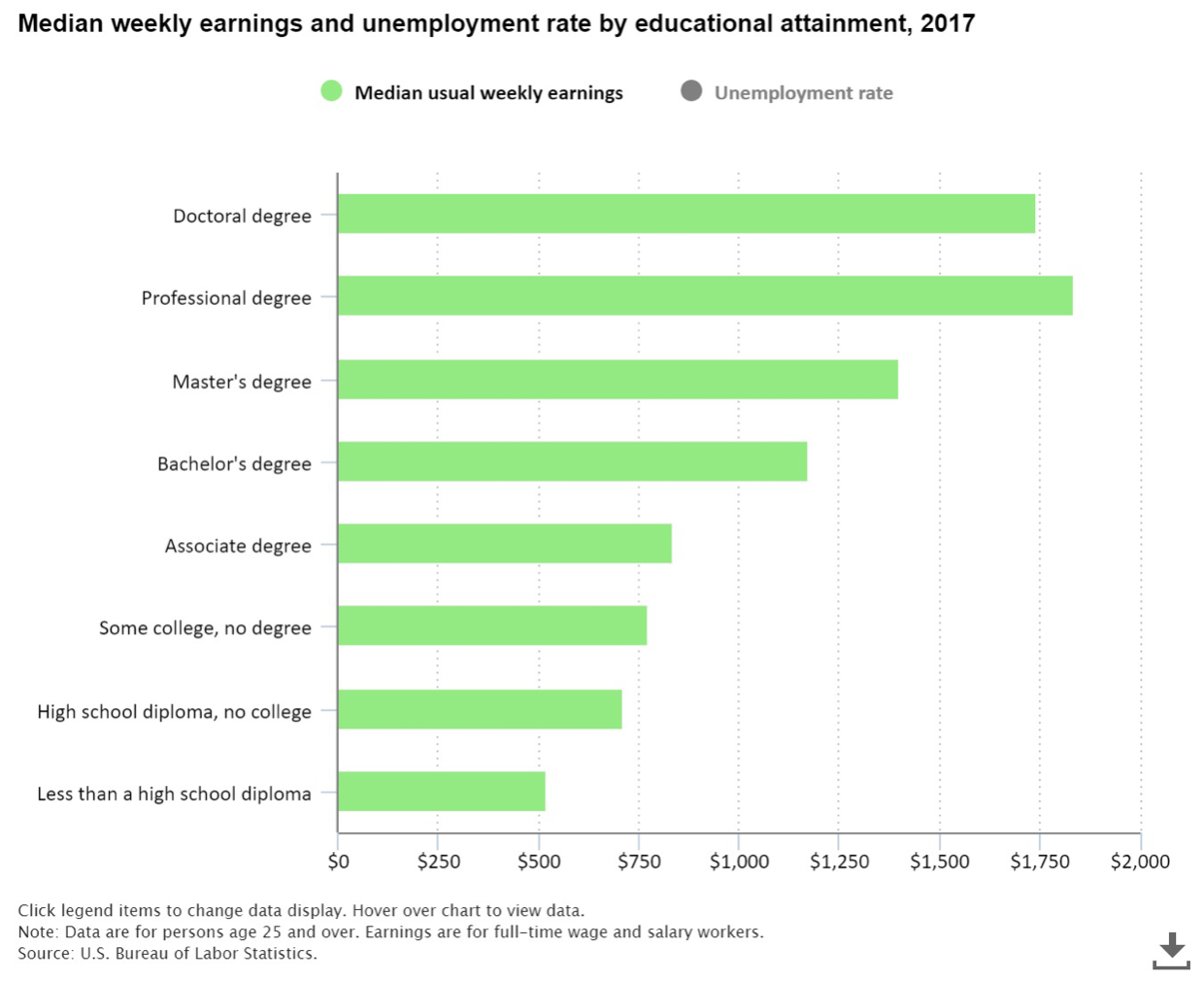 The data shows that if you have graduated from high school but did not pursue any further education, you can expect to make $712 per week. If you start college, you can expect a bump up to $774. The kicker: you don't even have to graduate to see a return on your investment — just make the effort and employers will be more willing to hire you and/or pay you a higher salary.
Moving along the educational ladder, finishing an Associate's degree brings you up to $836 per week… and so on. And according to the data shown here, the only degree where it's questionable whether you'll see your paycheck get any bigger is the Doctoral degree. Eyeball the bar graph again and it's clear that the biggest raise of all comes when you complete a Bachelor's degree.
The takeaway here is to set your sights on graduating from college if you're serious about giving yourself the best chance for a lucrative career.
They say the more you learn the more you can earn. Which makes sense with the right plan and if you've done your homework. For the rest without degrees many are wage workers, sometimes with bad credit using loans online since there is little savings for emergencies.
As if going to college weren't already a no-brainer, let's look at it another way and examine the flip side of this equation: unemployment. One quick glance at the graph below tells you that the more education you have, the less likely you are to be sitting around at home perusing the listings on hotjobs.com and wondering how you'll pay your bills.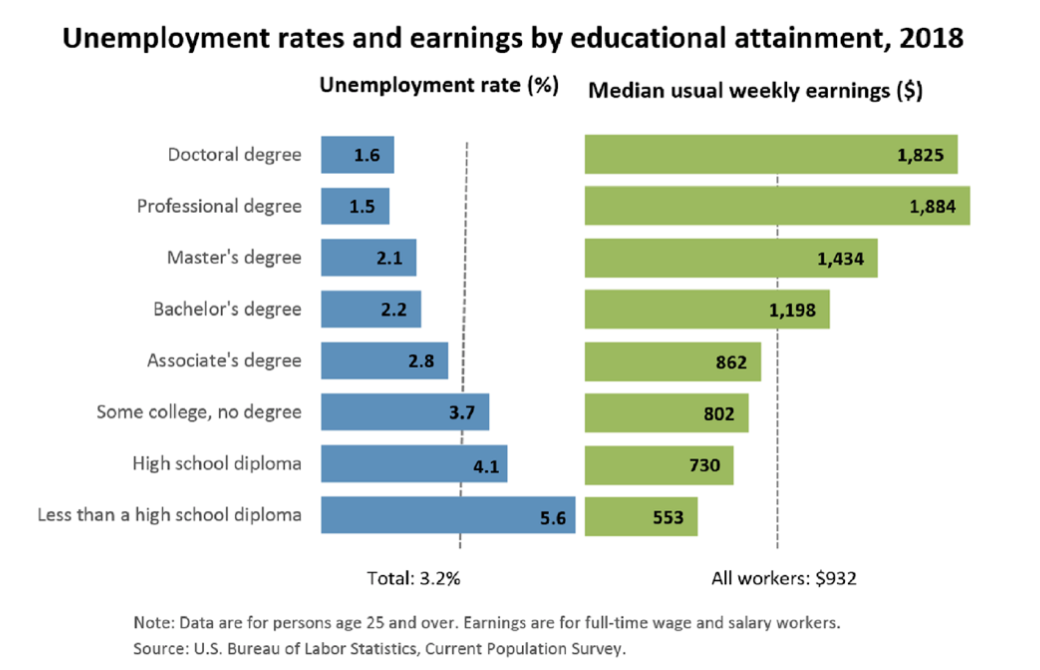 The facts are striking: education matters.
That being said, it's still expensive to go to college. But if that's your obstacle, you may be surprised to learn that cost isn't necessarily as much of a hurdle to clear as most people think.
3. Cost Isn't as Much of a Concern as You Might Think
Paying for college is a major hurdle for most people. Unless you are one of the 1%-ers or you're brilliant and someone pays your way, you're going to go into debt when you take classes or go to college. To minimize your loans, however, it's good to try and save up some money.
Budgeting is an option that can help you save for an education. Learning to create a budget that covers your textbooks, lab fees, tuition, and other costs can make paying for college less stressful. Equally important, it can keep you from overspending.
The basic concept of budgeting is tracking expenses and cutting back wherever you can. Living below your means may not sound like the ideal way to live your life but remember: you're keeping your eyes on the goal, staying focused on your dream, and practicing being determined.
Personal installment loans are another way to manage the cost of an education. They feature these attractive benefits:
Fast Decision Process

Considered for a decision for individuals with bad credit

They are disbursed directly to you
Plus, they can be used for anything you need. That's not the case for federal student loans, which go directly to your college. Federal student loans aren't supposed to be used for traveling, entertainment, small business expenses, or take-out pizza. With personal loans, you have the freedom to use the money for whatever you please.
4. You Do Have Some Degree of Control Over Pricing
There's a trend (movement, if you want to call it that) these days of asking colleges to state their value proposition. Students are asking about the job opportunities they'll have after graduating. They want to know what percentage of graduates actually get jobs. In other words, is the price of an education worth it?
One way to protect yourself against a poor investment is to choose your school with price in mind rather than just credentials. Weigh the cost of tuition against the college's success statistics. Sometimes it's the connections you make (with instructors and students alike) rather than the prestige of the school you're attending.
5. You're Essentially Future-Proofing Yourself Against Total Poverty
"The beautiful thing about learning is nobody can take it away from you".
~B.B. King
People often have a hard time seeing a direct benefit to getting a college degree. They have friends who drop out and go on to make tons of money in sales. Or they can only see the burden of debt that people carry with them after they graduate. But statistically, you're going to come out ahead when you go to college.
The reason is that with an education, you're acquiring the skills and training your brain to think in ways that you'd never know about had no not attended college. Campus life has immense value in and of itself, from the lifelong contacts you make to the eye-opening experience of living among a diverse variety of people who think and act very different from yourself. Even online educational experiences offer these lasting benefits as you collaborate with other students and become exposed to the same degree of diversity.
Bottom Line: Education is Priceless
Education is invaluable, whether you're attending as a 20-something or a Boomer. From the ROI you see when you invest in yourself to the possibility of higher salaries to the relative ease of paying for classes or a degree these days, getting a bit more education can be a smart way to go — your future self will thank you!