Running your own business takes careful planning and management to be successful. But even the most well planned operations can take their toll and result in unwanted financial stress.
Develop Good Accounting Habits
Much of that financial stress to running a business can be avoided, and with strong habits such as knowing the exact financial condition every day allows you to effectively manage things, and avoid surprises. Staying aware of things like cash flow and staying on budget can help manage your growing enterprise, allowing you to plan for and deal with issues like a cash crunch or similar before they develop into real headaches.
Adopt cost effective ideas
An important part of any business is its cash flow, and how this is managed can help determine whether you can afford to keep the lights on. You can rent office space, but if you can work from home that will save a bundle. Any office equipment that you can rent or lease also allows you more 'runway' and helps to manage your cash flow.
Limited Liability
A small company that operates as a sole proprietorship can leave itself open to legal issues in the future. By registering your company as an LLC, or limited liability company, you can reduce a whole lot of potential future financial stress, while protecting your assets. As a sole proprietorship, should you go to court or be sued for some reason, if your legal opponent were to win they could seize your home, car and other assets in order to collect any money that is due to them. Registering as an LLC can shield business debts from this sort of stress.
Manage Debt Wisely
The cash flows in many small businesses are often uneven, and this can be compounded by any seasonal aspects that might affect your business. You can mitigate many of these problems by the wise use and management of debt by providing cash injections at various times when needed. Sometimes it might be a short term loan, or you might find a supplier offering a great deal on some inventory you can make use of, and the profits can help repay the loan. Being able to identify and take care of such opportunities can help with the big picture and later avoid or reduce financial stress as well.
Wearing Many Hats
Just like doing your own accounting through the help of software, there are other roles you'll want or need to manage until you're in a position to hire someone with special skills. Another important position you'll want to take on during the early days is marketing. From managing reviews about your business, social media or online advertising, there's countless small tasks that can be learned. One of the bigger challenges being to not spread yourself too thin, and knowing when it's time to get help or hire someone to dedicate themselves to the role.
Women Entrepreneurs
Over 12 million women own businesses in the US, and that number has increased nearly 115% between 2007 and 2017. While female entrepreneurs account for almost half of the small businesses (SMBs) it isn't proportional in terms of employment or revenue, but that too may change in the future. Most new businesses started by women entrepreneurs are owned by women of color with African Americans leading the way.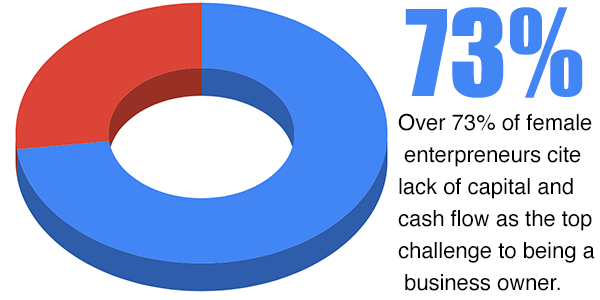 For most female entrepreneurs their business stress point is often related to capital and cash flow as a main challenge. On average, men are more likely than women to obtain a loan (38% vs 31%) and almost twice as likely to get funding (28% vs 15%) overall. Many studies also suggest female entrepreneurs have less financial stress and better work/life balance.
With just a few adjustments to how you do business, you can avoid all kinds of money mistakes and save yourself from all kinds of potential or future financial stress that might otherwise deflate your enthusiasm for your business. Which can affect how it's run, managed and ultimately the overall success.