Why Consider Personal Money Network?
Personal Money Network is a great resource to get the loan you need for your circumstances, whatever they might be. Sudden financial obligations happen, like unexpected bills, and those obligations need to be met. Maybe you need a few extra dollars to float you to payday, or perhaps something more substantial. Whether one needs payday loans, installment loans or emergency loans for bad credit, Personal Money Network can accommodate those needs.
What Sets Personal Money Network Apart
The thing that makes Personal Money Network a great resource for getting payday loans, installment loans for bad credit or another short-term loan online is that we aren't a lender, but we work with many lenders and can help you find a loan.
Instead of filling out application after application – and potentially having to drive from place to place – you fill out one application. The network of direct lenders that work with Personal Money Network get the chance to review your application and offer you a loan, meaning it's more likely to get a loan request approved – and all from the comfort of your own home via mobile, desktop, laptop or tablet.
How Does It Work?
You simply fill out an application for the payday loan or other short term loan product that fits your needs and you submit it. The application itself only takes a few minutes to fill out. Within a few minutes of submitting the application, you'll get the approval decision and, if approved, a loan offer from the lenders in our network. From there, you'll be redirected to the approving lender's website to review the loan offer and the terms of the loan, and choose whether to accept or not.
Reasons To Choose Payday Loans
Any credit product, including payday loans, has its own unique characteristics. However, some of the positives of payday loans – and similar options like small loans – are the repayment period is shorter, and the time between application and funding is much shorter than the time it takes to get a bank loan.
Interest And Fees
The interest rates and fees for a cash advance loan or payday loan are often reported to be astronomical. They aren't. Fees on payday loans often are a flat fee per $100 lent, often as low as $15 per $100. When expressed as annualized percentage rates, they can seem outlandish, but let's give that some different context:
Comparing Online Payday Loans APRs
Finance fee
APR
$15 – $35 loan fee for $100 short term personal loan
391% – 851%
$33 fee on $100 bounced check
860%
$37 late fee for $100 credit card balance
965%
$20 – $45 reconnect/late fee for $100 utility bill
521% – 1,173%
As you can see from the chart above, installment loans, payday loans, and other short term lending options can save you money when compared to common alternatives to remedy financial emergencies.
The Personal Money Network Advantage
What's great about Personal Money Network is that we connect you to lenders across the country, instead of being limited to those in your immediate area. Also, since we can offer multiple products, your choice isn't restricted to payday loans or installment loans. As our lender network is so wide, we increase the chance you'll be approved for exactly the loan you need.
Apply Today!
As you can see, we inform our customer on multiple loan types, and we deliver. Whatever your need is, we will try to find a lender for you to assist you in your time of need. Our partner lenders can have funding wired straight to your bank account.
Personal Money Network also strives to ensure the safety and security of your information. As a result, we only partner with lenders that also take your privacy seriously, and our application is encrypted to the highest industry standards.
For those needing fast cash and looking for payday loans in Colorado, Texas, California and others, we can probably be of assistance as well. We work with many lenders and here to help you.
The Most Popular Types Of Payday Online Loans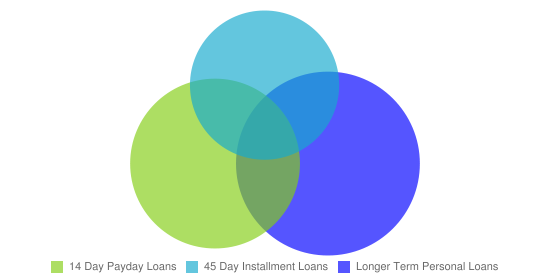 * Number of days for repayment is determined by local law. See our Terms of Use & Disclaimer.
With our easy application process and the ability of our lenders to quickly deposit funds to your checking or savings account, it is easy to get money for any type of emergency or short term financial problem. If you need money now, you can apply right now.
Average First Time Borrower Loan Amounts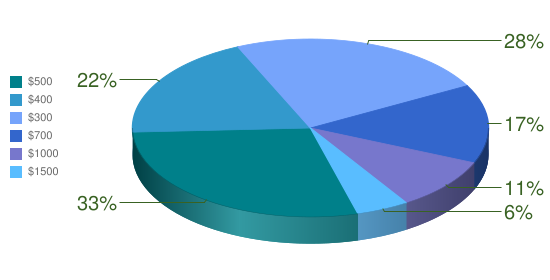 * Percentages are estimates for visual effect purposes only. See our Terms of Use & Disclaimer.
Average amounts for payday loans vary, usually by state, but the typical loan is more than $200 but less than $1,000. First time applicants for payday loans are typically approved for 300 dollar to 500 dollar.
Does Your Credit History Matter? Not With Us!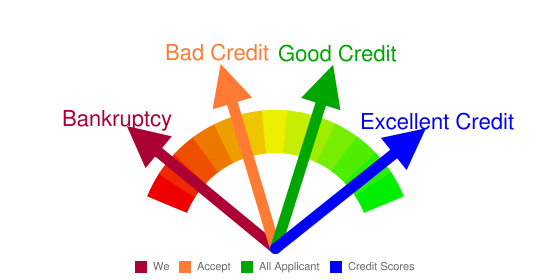 Payday lenders and other lenders that partner with Personal Money Network may check a prospective borrower's credit scores with the three main credit bureaus – namely, Equifax, Transunion and Equifax. It is solely at the discretion of the lender whether they will do so or not.
However, if a lender does check a borrower's credit, the scores they view may not necessarily impact the decision to lend to the borrower.
Additionally, a lender may also submit to those agencies information such as the loan request, and the borrower's loan history with the lender in question or other lenders, and repayment history as well.
Payday Loans
Payday loans or payday advance loans usually are for less than $1,000 – loan amounts between $300 and $500 are the most common – and are repaid quickly, often enough on the borrower's next payday. No collateral is required other than the promise to repay.
Installment Loans
Installment loans are a very popular option, as the repayment plan is extended beyond that of a payday loan. Lenders can be mandated to offer an installment plan by state laws, though most are perfectly happy to offer one anyway. Loan amounts in excess of $1,000 are available, though installment plans for smaller loans are certainly available if you desire one in lieu of traditional payday loans.
Personal Loans
While personal loans can be used as a bit of a catch-all phrase, typically it denotes a loan that's larger than a typical payday loan or cash advance, or even the typical installment loan. Amounts of up to $25,000 are available. However, a credit check or some sort of collateral may be required for a loan amount greater than $1,000.
Installment Loans or Payday Loans?
Both payday loans and installment loans have their pluses and minuses – it's up to you to determine what best fits your needs. Do you want to stretch the payments out for awhile? Installment loans are going to be your best choice. Want the whole thing over and done with as soon as possible? Payday loans would be a better option in that case. Personal Money Network can help you get whatever loan it is that best fits for you.
Asking For The Best Payment Plan
Some borrowers may get approved by what appears to be a payday loan lender asking for repayment in much less time than they wish. That isn't a burden to getting an installment loan. You can still accept the offer – just contact the lender and say you want a longer payment plan that better fits your budget. The lender will be happy to work with you, and in some states they have to offer an extended payment plan if you ask for it, without any additional fees or interest.
Industry Standards
Should you encounter resistance in obtaining a payment plan that will fit your needs, you can also appeal the Community Financial Services Association of America. Many payday loan, short term loan and installment loan lenders are members. Borrowers can apply for one EPP per year, which will extend the payment period out longer than one or two pay periods.
A Short Term Loan Solution
Sudden shortfalls happen all the time, which is why short term loans can be a great tool in a pinch. If you need one fast, online is the best way to go because you can get the application done in minutes and you don't have to drive anywhere – which is where Personal Money Network comes in. Since we use a network of lenders to get you a loan, an approval decision can be rendered in a few minutes and you stand a better chance of getting approved and since our network of lenders can use direct deposit, the funds can be wired to you instead of having to cash a check.
Borrowing For The 21st Century
The great thing about online payday loan and other borrowing is the convenience of 21st Century commerce. You don't have to leave your home, and you can apply with your laptop or desktop computer, tablet or a smart phone. Since so many lenders can utilize direct deposit, the funds can be wired directly to your bank account without having to wait for a check to cash.
Repayment Options
Not all repayment options may be made available to you when you first receive a loan offer. You can decide to decline the offer if you wish, but you should contact the approving lender if you would like to further negotiate terms of a loan offer. Most lenders are perfectly willing to work with you – after all, a loan that you are able to repay is better for both parties.
Be A Smart Borrower
Remember, short term loans like cash advances, payday advances and payday loans are not panaceas for financial burdens. They are short term solutions for short term shortfalls. If you are having financial difficulties, you should consult with a financial advisor who can help you figure out how to improve your situation with sound financial planning. Don't take out more than you repay responsible in the alotted time to issue repayment. These loans, like any, come with a price. You should only agree to borrow what you can afford to pay back.
There During Emergencies
Financial emergencies happen, like car problems, sudden medical bills and other expenses. It's a part of life, but don't think it leaves you stranded. By applying for a loan through Personal Money Network, you can get the funding you need quickly, in amounts up to $1,500 – all without having to leave home. You can apply for installment loans, short term loans or payday loans online all from the comfort of home by computer, laptop, smartphone or tablet.
Frequent Questions
Q: How fast does it take to get an approval notice?
A: Approval decisions are usually rendered in three minutes.
Q: How long does the application take?
A: The application is brief; most people can complete it in three to five minutes.
Q: I'm on a fixed income; can I still get a loan?
A: Borrowers who receive benefits as their primary income
can certainly get approved for a loan.
Q: What if I'm in the military?
A: Military borrowers can certainly get loans, though there
may be fewer lenders willing to lend to them.
Want to know more? See the FAQs page for more details!
California residents have additional or different rights to obtaining the personal information a company has on them and to opt out of their personal information being shared. For more information or to opt-out please review our California Privacy Rights.